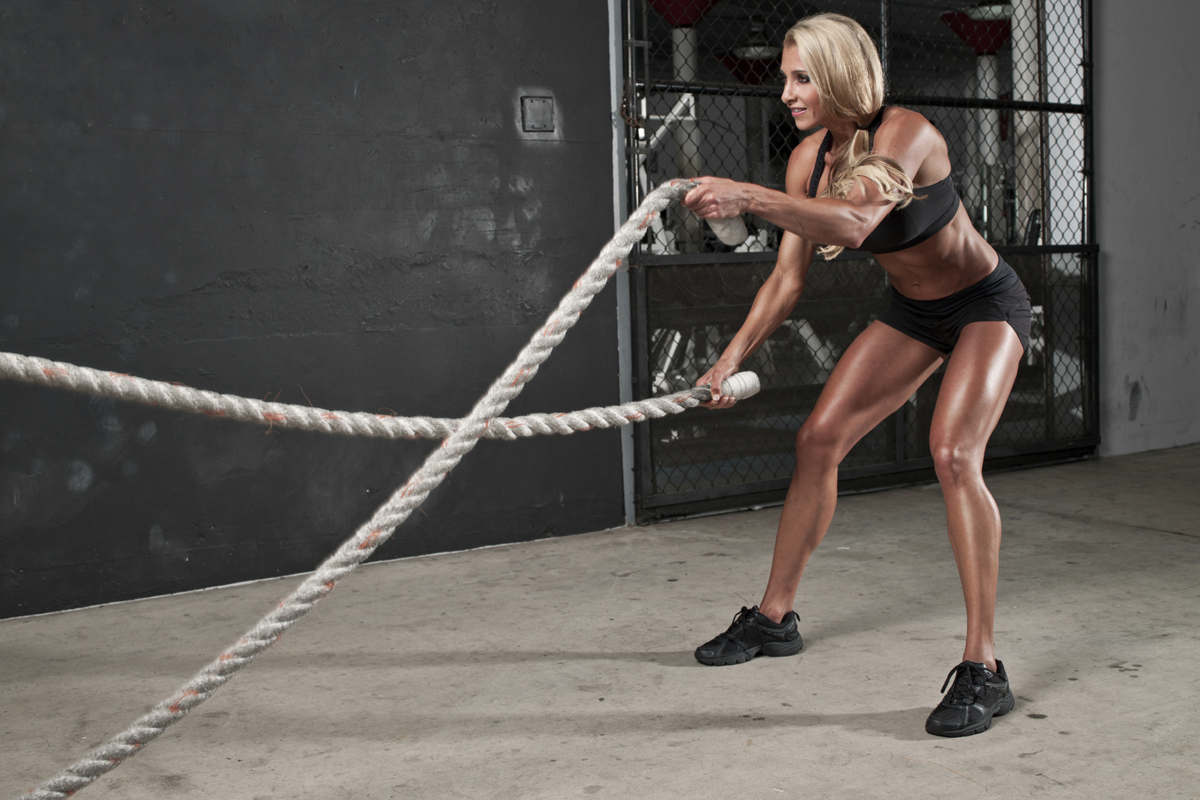 Battle Rope Facility Tips
Battle ropes are a great HIIT training tool that can develop an athlete's power and explosiveness. Besides helping to develop a killer grip, battle ropes are a functional training tool that work the entire body and neuromuscular system, increasing anaerobic and aerobic endurance.
Most of all they are fun for members so you want to have them around. The problem with them is where to use them and what to do with them when they aren't being used.
Battle ropes are usually 1 to 2 inches thick and vary in length from 25-50 feet. When used in training, they are wrapped around an anchor point and each half-length is stretched out. For a 50 foot rope, this means the user needs to stand approximately 25 feet away from the anchor point.
Commonly, an existing piece of equipment is used as an anchor point. But because one needs to wrap around the front of the frame, 6 or more feet of a rooms available space is already used up. To combat this, Torque Fitness created a dedicated Battle Rope Anchor Pole that can be mounted along a wall or corner, maximizing the available space in the room.
When battle ropes aren't being used, you want to make them available for members, but you can't count on them to coil them up nicely. This can result not only an untidy look for your facility, but can become a tripping hazard. While many of our X-Lab systems have dedicated anchor and storage locations for battle ropes, we created a dedicated product solely for use with these training tools. The Torque Battle Rope Anchor (XBRAP) contains storage hooks so the ropes can be conveniently and quickly stored when not in use.
The XBRAP includes hooks and storage for two battle ropes which can be used simultaneously. Exercise placards are integrated onto the top providing instructions to novice users who may be intimidated by them.
The last aspect of battle ropes one should consider is the surface they are used on. The slamming on certain surfaces can be loud. Turf is best, but the battle rope construction themselves play a part in this. Torque battle ropes are sheathed in a heavy duty nylon cover. This not only prolongs the life of the rope, but it significantly reduces the sound that rope slams produce.
Battle ropes are versatile, work multiple muscle groups at one time, produce quick workouts and your members will love them. When you are getting ready to implement them in your facility, keep in mind where they will be used, what they will be anchored to, how they will be stored and the construction of the ropes themselves.
| | |
| --- | --- |
| | |
| Consider the space required to use battle ropes. Anchoring to the front of equipment reduces the floor space available. | X-Lab Edge Systems include anchors and storage for battle ropes. The design of the system also allows for the anchors to be in the corner of a room. |
| | |
| The X-Series Battle Rope Anchor Pole is a dedicated anchor and storage device for battle ropes. The bolt down unit includes instructional placards. | Besides helping to develop a killer grip, battle ropes are a functional training tool that work the entire body and neuromuscular system, increasing anaerobic and aerobic endurance. |