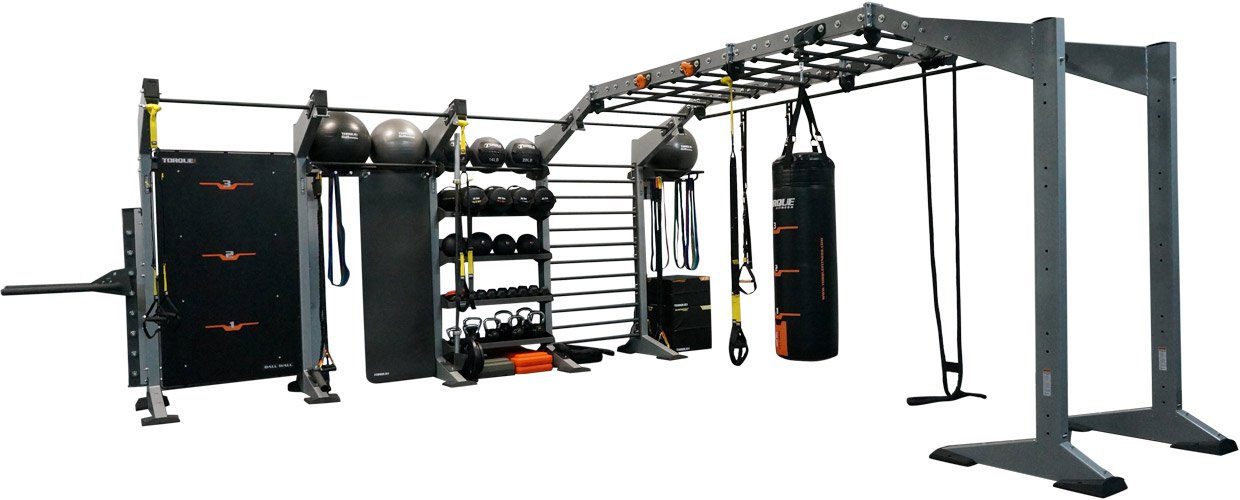 X-Create Delivers Custom Functional Training with Built-in Storage
WHY X-CREATE?
To equip health clubs, fitness studios, and training centers to meet the high demand for functional group training, Torque Fitness developed the X-Create, an infinitely customizable, versatile, combined training and storage system. Debuting March 22-23 at Booth 2213 at the 37th annual International Health, Racquet and Sportsclub Association (IHRSA) Trade Show at the San Diego Convention Center, the X-Create is custom designed with virtually endless possibilities to uniquely meet every facility's needs.
"With the growing popularity of functional workouts and small group training, fitness centers face greater challenges for workout space and storage for accessories," said Jerry Dettinger, CEO of Torque Fitness. "The X-Creat

e

solves

these issues with a compact footpri

nt, built

-in storage, and a customized layout."
X-Create Starts Here
The base of all X-Create systems, the four-foot base module walls each come standard with one pull-up station and two suspension anchors. For systems that aren't located next to a wall, the base bridge ranges from 13 to 33 feet, and includes monkey bars, functional bars and two base modules that each include one pull-up station and two suspension anchors.

Coming soon are center space modules for dividing workout spaces and functionality on both sides.
Add modules

Add attachments

Each module accommodates one to three exercisers simultaneously, customers can add modules such as:

Stall bars (for use with resistance bands)
Ball and hanging storage (for exercise mats)
Storage (accessory trays, ball storage)
Modular extension (for adding training stations and storage)
Ball target wall (coming soon)
Olympic lifting station (coming soon)

Customers then build their ideal training system by choosing from numerous attachments, including:

Ball target
Battle rope anchor
Horizontal ground rotational trainer
Bar/weight storage
Dip attachment
Plyo-step attachment
3D heavy bag swivel
3D heavy bag swivel with mount
Endless rope drum
Rock climbing grips
Ball & hanging storage extension
Vertical dumbbell storage (coming soon)
Resistance band anchor (coming soon)
Hanging storage hook (coming soon)
Incorporating storage into the training system keeps equipment conveniently accessible for efficient workouts in safe, uncluttered spaces. Plus, facilities can easily expand or modify their X-Create system over time to satisfy exerciser and programming needs.
Complete Your X-Create
Finally, add functional accessories to your X-Create to get the most out of your system. Torque offers an entire catalog of functional accessories, individually or as tailored packages, that allow users to perform an infinite variety of exercises with X-Create. By evaluating the changing needs of fitness facilities, Torque has come up with the perfect solution in X-Create for any facility that wants to offer its members a functional exercise option.

Fitness professionals and facility managers and owners are invited to experience X-Create at the Torque booth. X-Create is currently available, and custom floor plans can be developed immediately.

Also unveiling at IHRSA are a new, exciting development surrounding the popular Torque TANK all-surface sled, and the X-Siege, which evolves the X-Rack further.