Relentless Rope Trainer™
A force to be reckoned with. Crafted for unlimited performance, Torque's Relentless Rope Trainer uses innovative magnetic force resistance to enable competitive bi-directional movements, promising a limitless rope trainer challenge.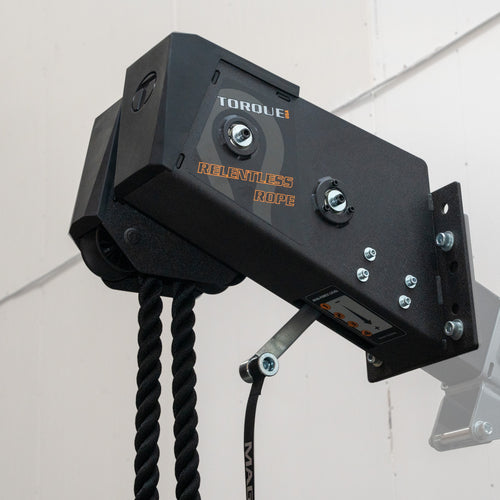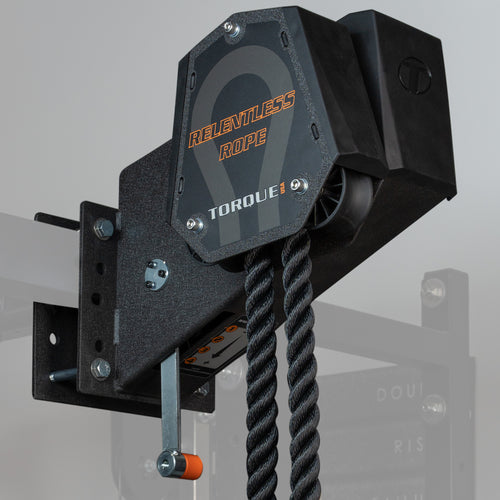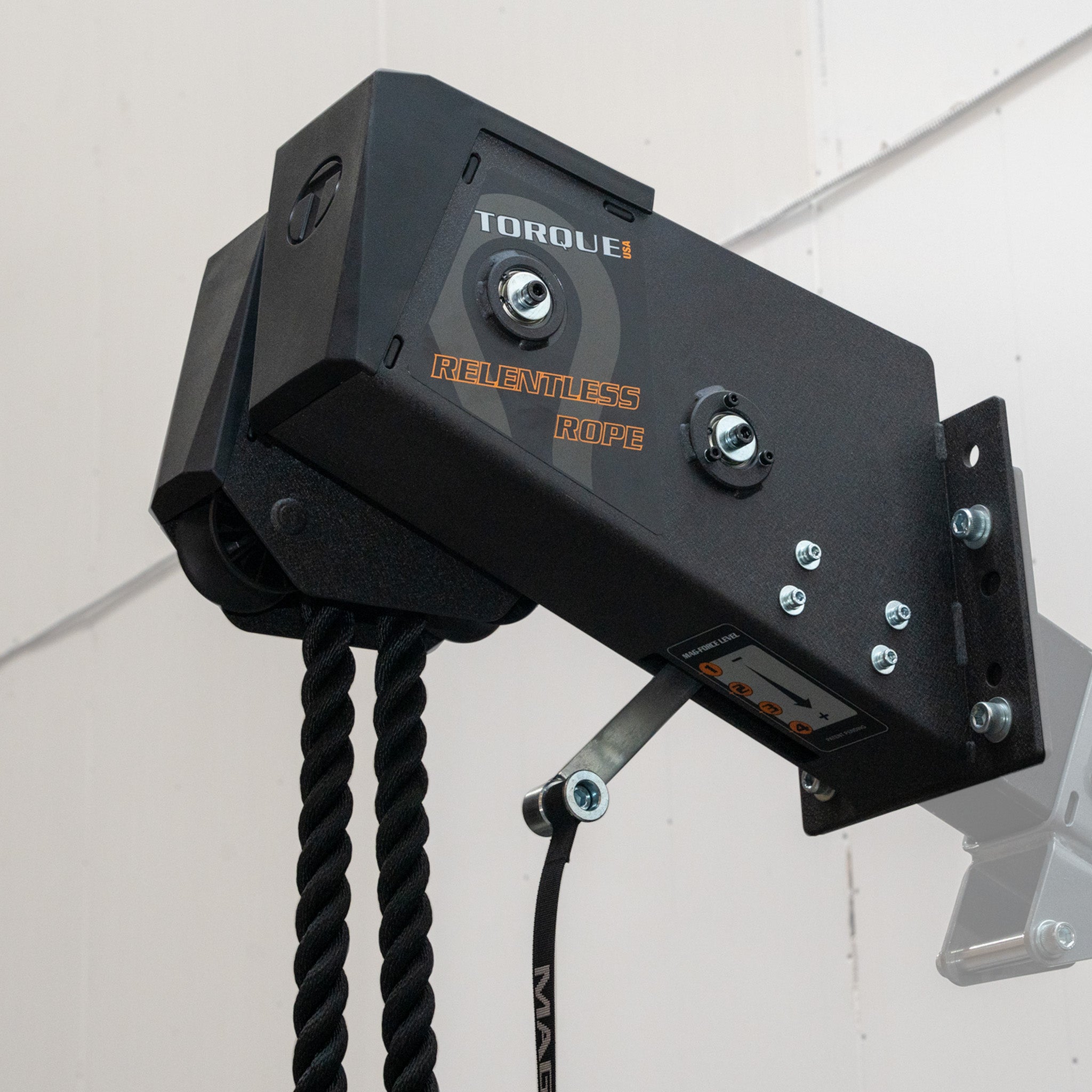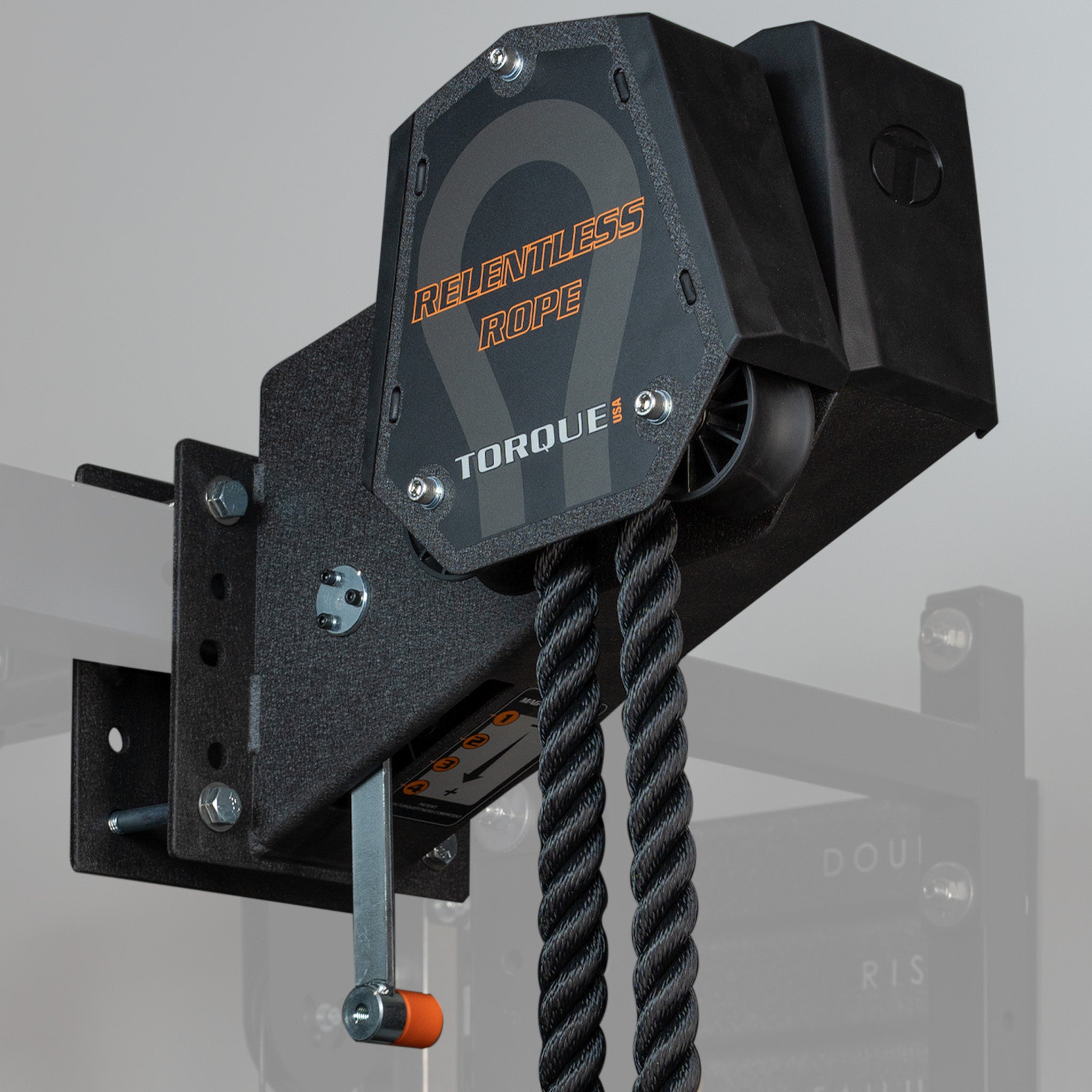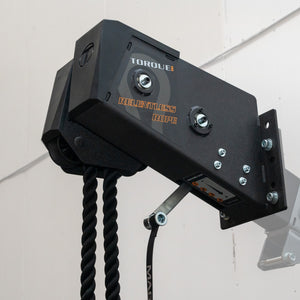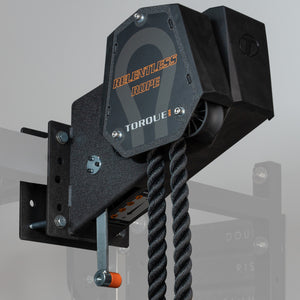 Experience undeniable training.
The Relentless Rope attachment compliments individual and group fitness regimens. Featuring a sleek design, bi-directional movements, and four selectable resistance settings this novel rope trainer incorporates the magnetic force resistance you know and love with a new and improved durable, three-strand twisted marine-grade rope. A faster pull delivers a more difficult resistance challenge.

The Relentless Rope Trainer is built with a pivoting head to ensure proper wrap and minimize slippage while providing consistent resistance throughout training - in all directions and angles. Built for nearly all fitness facilities, the Relentless Rope Trainer is a unique attachment compatible with X-RACK, X-SIEGE, X-LAB, X-CREATE, X-CAGE and X-GYM, and other manufacturer uprights.
The overall top height of the Relentless Rope Trainer when attached on an X-CREATE Bridge is 108.9 in (276.6 cm)
The overall top height of the Relentless Rope Trainer when attached on a Rectangle Cross with 9 ft. (2.7 m) X-RACK Uprights (XRACK-9U) is 112.5 in (285.8 cm)
Patented Technology
INNOVATION
Whether it is a product, service or support, we don't quit improving and innovating. We are defined by our persistence despite any setback to bring athleticism to a new level.
QUALITY
Torque Fitness is committed to making your product last a lifetime. With over 40 years of design experience, we manufacture our innovative products with only premium quality materials and heavy-duty commercial grade steel.
SERVICE
At Torque Fitness, customer service is more than just providing great customer care. It's about providing solutions to customers at every step along their journey in fitness.
FOUR LEVELS OF ADJUSTABLE RESISTANCE
The Relentless Rope provides 4 levels of resistance settings that are easily accessible. At each level, the faster you pull the harder it gets. The Relentless Rope Trainer's removable lanyard allows resistance adjustment to be reachable when mounted up high.
LIMITLESS MOUNTING OPTIONS TO TORQUE SYSTEMS AND MORE
The Relentless Rope Trainer is mountable in a variety of ways to most Torque and other manufacturers' strength systems. The Relentless Rope can be mounted to a wall or essentially any square tube 6x6 or smaller.
EASY TO CLEAN, MARINE GRADE ROPE
The 1.1 in (26 mm) three-strand twisted marine grade rope is soft on the hands and easy to clean, ensuring a safe and fun training tool for any environment.
COMMERCIAL QUALITY
The Relentless Rope Trainer is designed and built with commercial training environments in mind. With a commercial warranty, your Relentless Rope is guaranteed to withstand endless hours of workout fun.
PIVOTING ROLLER DESIGN
Torque's pivoting roller design keeps the rope wrapped around the drive roller at all pulling angles while minimizing rope flexion, providing consistent resistance and longer rope life.
PATENTED TECHNOLOGY
The Relentless Rope Trainer's uniquely crafted design is patented.
Contact Us About Relentless Rope
Thank you for your interest.
Please provide some more information and our team will be in contact with you.